SENIOR SHAPSHOTS: The athlete, the artist, the chef
June 23, 2015
The Athlete: Zev Marcus
By Maayan Waldman, Opinion Editor
A blurry No. 23 drives towards the basket, one hand keeping the ball in a steady dribble until it is finally ready to go into the net. Swish.
That's Zev Marcus's 10th point in the game against Beth Tfiloh at the March Sarachek tournament in New York City.
But Zev wasn't always a basketball star. When the varsity basketball roster came out in Zev's freshman year, his name was conspicuously on the junior varsity list instead.
Zev's ego was shaken, but from that point onward, he was determined to improve his game.
He practiced up to six times a week, on his own or with the team, that was enough. In his sophomore year, he made both the varsity team and the JV squad.
But Zev's struggle didn't end there. With basketball dominating his life, his parents threatened him a few times, telling him that if he didn't pick up his grades he would no longer be able to play.
"I didn't listen to them," Zev said in an interview, "because I didn't believe they would follow through or that my grades would ever get that low."
He was wrong. Later that year, he was forced to sit out two games on academic probation. One was against YULA, a game that had been highly anticipated by the entire team for weeks.
When the FIrehawks lost, Zev took the blame.
"I imagined how much I could have potentially helped my teammates who were out there on the court," Zev said. "Since that game, I was determined to make sure my grades were always where they had to be."
And Zev's goal was truly accomplished. Not only did he play in every game afterwards, but also he became captain this year.
Then, at the Sarachek tournament in New York, after star player Simcha Halpert was sidelined with a broken wrist Zev helped save the series, scoring 10 points in the crucial win over Beth Tfiloh.
"After I saw Simcha go down in the first quarter of the second game, I just felt that I needed to step up," Zev said after that game. "I just took it upon myself to be that guy. All the work I put in at the gym, I could finally use it now, and those are the results we got."
"What I learned from this entire experience is that you always need to  stay confident in yourself and work hard no matter what," Zev said later, "because one day  you will have an opportunity to showcase the hard work you put in."
Upon graduating, Zev plans on studying for a year at Yeshivat Torat Shraga in Jerusalem before going to Yeshiva University, where he would like to study either business or sports management.
And maybe, if he gets a chance, he might even shoot around a ball or two.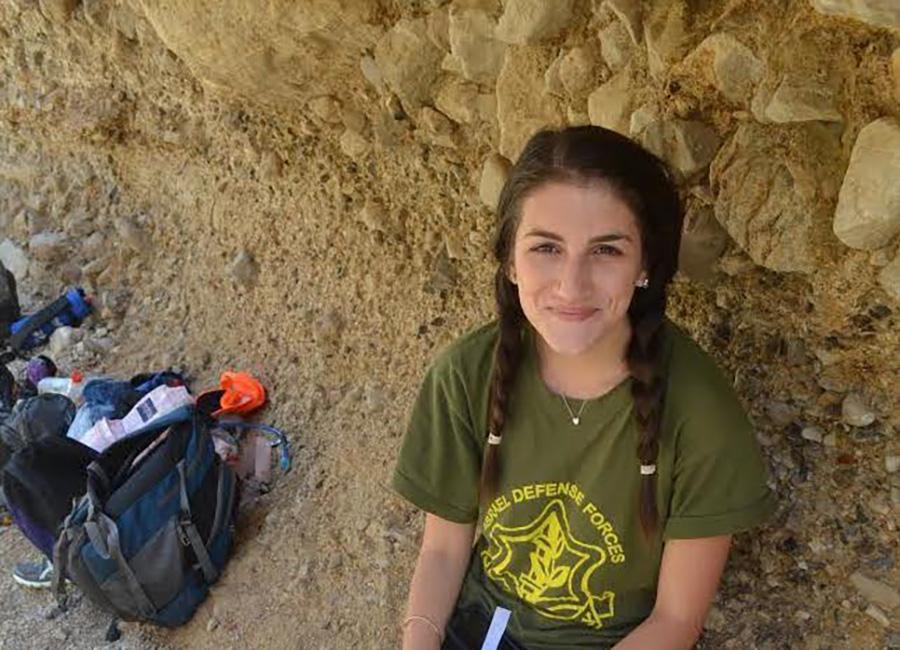 The Artist: Michaela Bieda
By Rebecca Navon, Staff Writer
Shalhevet may be a four-year high school, but senior Michaela Bieda has just completed her ninth year.  That's because there used to be a Shalhevet middle school and an elementary school, and Michaela attended them all.
She joined the Shalhevet community in third grade, and it turns out that her first impressions have lasted.  Dubbed "Smallhevet" by the Boiling Point at the time, Shalhevet Elementary was, Michaela said, "unique with so much spirit."
"It had is the same close community and family atmosphere as now," said Michaela. "But it became more structured and more Modern Orthodox than across the spectrum than it was."
She looks back upon middle school as her most enjoyable of her years, because there was no academic pressure or competition.  High school, she said, was more of a growth experience.
"High school has changed my way of thinking," she said. "It has shown me who and what I want to surround myself with. I love the closeness and dedication that is shown in my grade."
What's tied all these years together for Michaela has been her talent for art.  She started taking art classes in the fourth grade with Roen Salem, who has taught every grade, and throughout middle and high school she developed her considerable artistic skills.
Michaela drew palm trees for The Boiling Point, and in AP art focused on her favorite type of art — mixed media, using multiple materials like crushed shells, tissue paper and beads in a single piece.
Although she does not want to be an artist, Michaela enjoys the imagination that art involves.
"AP art allowed me to let my creative ideas out, express myself without words and get my mind off of things," she said in an interview. "Usually a social situation or a decision I needed to make."
In addition to being at Shalhevet more than most of her fellow graduates, Michaela also faced an unusual challenge. During the first half of her senior year, her mother – PE coach Ms. Raelyn Bieda —  was not well.  Michaela drove her siblings, ran errands for her mother, and pitched in with a lot of chores and responsibilities.
"She worked really, really hard," said Coach Rae. "I'm very proud of her."
Ms. Salem said her success combined the best of Michaela's dedication and her talent.
"She had tons of absences but she was seriously working at home and finished everything for her concentration on time — that was a big success," explained Roen. "She had a lot of self-driven talent, and her concentration showed unity."
Michaela plans on attending the University of Arizona next fall to study psychology and science.
"The school gives great opportunities for my major and it's close to home," Michaela said.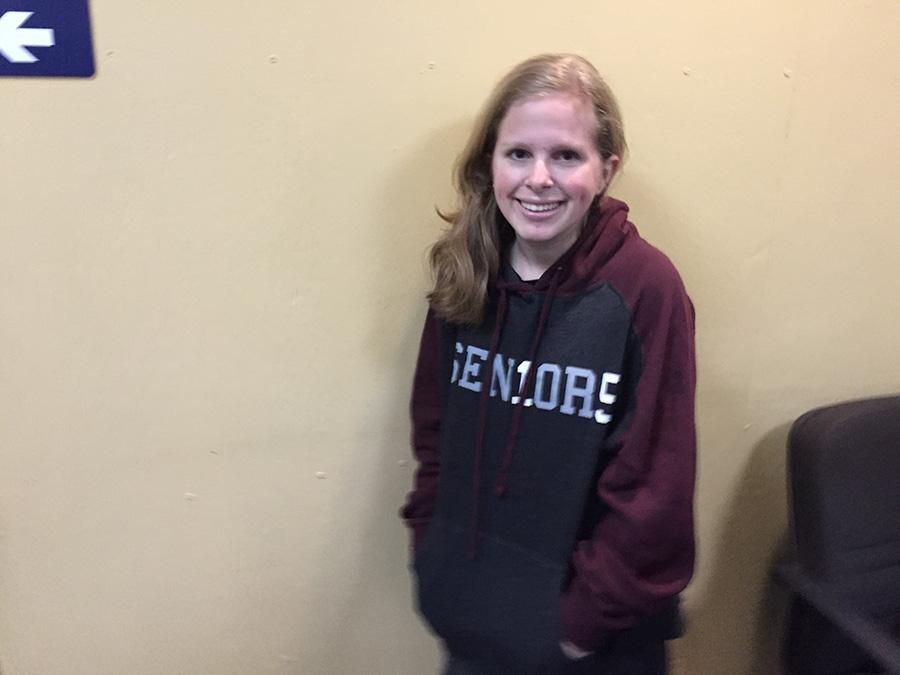 The Chef: Rina Katzovitz
By Hannah Jannol, Staff Writer
Like many seniors, Rina Katzovitz is planning to take a gap year before starting college.
But hers will be different.
"Not in Israel — nothing so cliché," said Rina, known for selling popsicles in the hallways for charity and trying stand-up comedy at the Purim talent show.
Instead, Rina plans to leave June 23 for Brooklyn, New York, where until December she will attend The Center for Kosher Culinary Arts, a full time professional cooking school.
Rina started cooking at such a young age that she can't remember when cooking wasn't a part of her life.  Her mother started her cooking simple things like pasta, and soon she was able to make side dishes like roasted vegetables by herself.
One of her earliest memories is putting on a make-believe cooking show with her brother, where they competed in making guacamole.
"Instead of being doctors, princesses, or firefighters, we were chefs," Rina said.
Today, Rina makes a wide array of dishes, specializing in garlic and onion, which she likes to use in everything.
"The seasonings I put on really depend on my mood," said Rina in an interview. "I will do a cayenne pepper chicken one night, and a rosemary lemon chicken on another night."
Still, she feels she has a lot to learn.
"I have been told I cook well but in no way am I a gourmet cook now," Rina said. In culinary school, she hopes to experiment with a broader variety of spices, and to learn to properly cook meat.
"I really just want to enhance my overall knowledge of cooking."
Rina is not unaware of her uniqueness. She is the founder of Shalhevet's Dungeons and Dragons club and in her spare time studied Arabic using an app on her iPod.
"I have always prided myself on doing unconventional things," she said. "I knew I didn't want to spend a year tied down, and culinary school gives me the opportunity to do something unique that complements my hobbies, and allows me to have time after to travel."
After coming home for a brief period, she plans to travel with her close friend Ariella Aslan. They hope to visit Singapore and Australia.
Rina's gap year will definitely be out of the box.
"This combines my passion for cooking with my desire to see new places," Rina said.
After traveling and cooking, Rina will be attending George Washington University in Washington, D.C., where she plans to study international relations and social justice.