TABLE TALKS: New Chabad House in Pensacola opens just in time to help with hurricane; Nikki Haley stepping down
December 6, 2018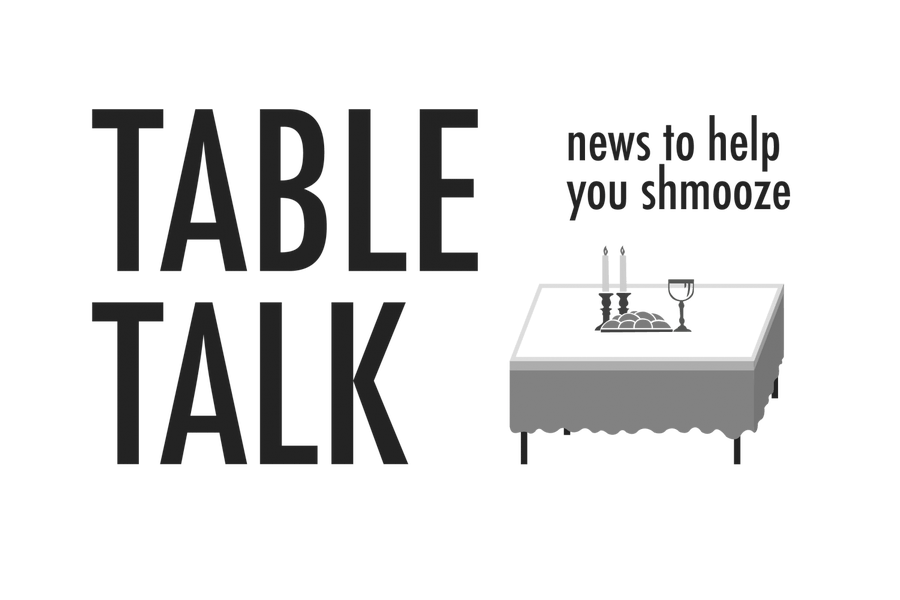 BP Graphic by Zev Kupferman
Rabbi opens new Chabad House in Pensacola just in time to help with hurricane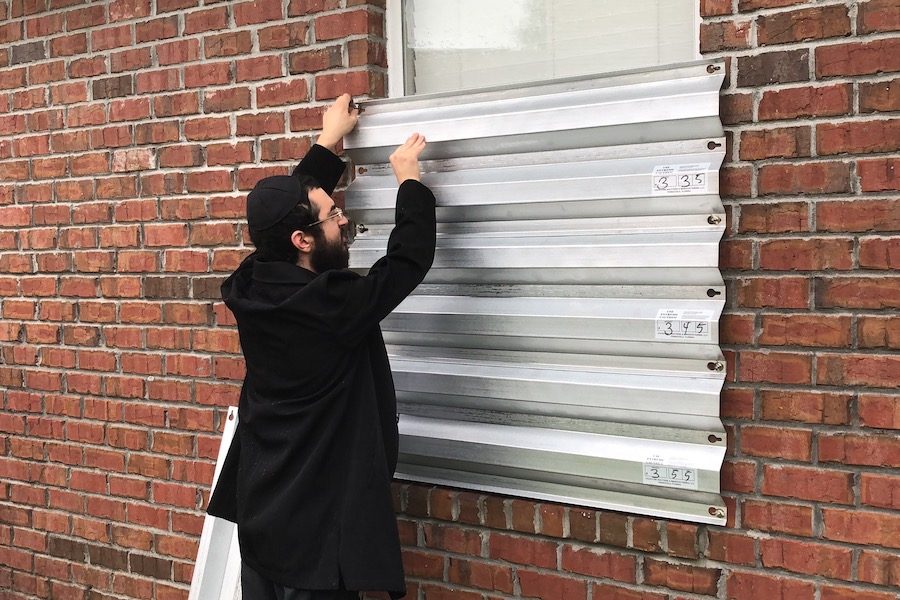 Rabbi opens new Chabad House in Pensacola just in time to help with hurricane
Chabad Jewish Center Pensacola
By Bayley Sandler and Kate Orlanski, Staff Writers
Rabbi Mendel Danow had arrived in Pensacola, Fla., just two days before Hurricane Michael would destroy parts of the state less than a three- hour drive from where he was setting up a new Chabad house.
And even though they had not yet unpacked, he and his wife Nechama ignored warnings to leave until the storm had passed.
"We moved there in order to be there to service the community, and we weren't going to leave," Rabbi Danow said in an interview with the Boiling Point. "On the contrary, we wanted to stay there, because we were in contact with people."
Hurricane Michael became the third-most intense Atlantic hurricane to date, with winds that reached speeds of 155 miles per hour — making it a Category 5 storm, the strongest hurricane to ever hit Florida's "panhandle" — the northwest part of the state that hugs the Gulf of Mexico.
Across the Panhandle, 120,000 people were ordered to evacuate Oct. 7, and another 375,000 in Georgia a few days later. As of Oct. 28, 45 people had died in the U.S. and hundreds more were unaccounted for, according to news reports.
Rabbi and Mrs. Danow moved to Pensacola to open a new Chabad House near Florida State University. Within hours of arriving, he said, they began making phone calls to make sure that the few people they had come into contact with were prepared.
Ten people came to stay with them — and their kitchen had not even been kashered yet. The couple were happy to help.
"We got a little bit of a bigger house to be able to host people," Rabbi Danow said.
In that way, Pensacola turned out to be a perfect location: close enough that evacuees could get there, but not close enough to see the heavy damage sustained further south. Their 10 guests had fled from various other cities.
"We had just moved into our house we didn't even have barely any furniture," he said. "We just made our kitchen kosher while they were there, and we were preparing food and [putting[ everything together, even though we just came there literally two days before.
"There wasn't too much time to sit around and think," he added.
Welcoming people into their home, he said, was a mission given to them by the Lubavitcher Rebbe, Rabbi Menachem Mendel Schneerson z"l. "The mitzvah of ahavas Yisrael, of loving your fellow Jew, of loving your fellow just as yourself," he said. "And this is the basis for the whole Torah and everything is founded on that."
He said the storm lasted throughout all of Tuesday and then continued through that Wednesday afternoon. No one lost any trees in Pensacola itself, he said, though there were many branches littering the ground during the aftermath.
"There was definitely rain and wind and some trees got a little bit… some damage, some branches were flying," he said, "but thank God it wasn't so terrible."
However, during Hurricane Michael an estimated $300 million of Georgia's cotton crop and $600 million in pecans were lost. Along with the millions of dollars lost in the agricultural industry, roughly 100 chicken houses were lost to the wind speed, causing the death of two million chickens.
---
"We got a little bit of a bigger house to be able to host people.
— Rabbi Mendel Danow, Chabbad Pensacola

---
The storm wound up destroying coastal towns such as Mexico Beach and Panama City, leaving the area in shambles.
Rabbi Danow said Hurricane Michael also caused many he came into contact with to ask him the question of why: why is God causing these extreme bouts of weather that could have long-term damage to Jews and the world as a whole?
He did his best to answer.
"God as the creator of the world," he said he told them. "He is the creator and He obviously knew what is the best thing for this world, and we are just creations and mere mortals.
"We are finite and God is infinite, and for us to be able to understand and explain God's ways is not within our capacity, and so therefore we don't have the say in the matter to explain why so many casualties take place, why people lost their lives in such a terrible catastrophe. And so therefore we cannot explain it in a rational way."
Hurriane Michael first hit the coast of Florida on Oct 10, and then traveled north towards Georgia. It earned the title of fourth-strongest landfalling hurricane in United States history, after hurricanes Labor Day in 1935, Camille in 1969 and Andrew in 1992.
The storm originated in the Caribbean Sea, and grew into a hurricane in about a week. It then made landfall in Florida before traveling further north. Governor Rick Scott of Florida declared a state of emergency in 35 counties, with President Trump making the same announcement shortly after.
Mandatory evacuations were ordered for cities along the Florida coas on Oct. 8, and the storm was over by Oct. 11.
It was not the welcome to Florida that Rabbi and Mrs. Danow had expected. "But we made it through and we're here to tell the tale," he said. "Baruch Hashem."
UN Ambassador Nikki Haley is stepping down
By Molly Litvak, Outside News Editor
After almost two years in her post, United States ambassador to the U.N. Nikki Haley announced her resignation last month, leaving Americans wondering what her next move would be and who would fill her shoes.
Although her resignation went public on Oct.9, Haley said she would serve until the end of 2018. She sent her resignation letter to President Trump a week earlier, then sat alongside him in the Oval Office to announce it.
"It was a blessing to go into the U.N. with body armor on every day and defend America, and I'll always do that," Ms. Haley said in a video posted widely in news media. " I'll never truly step aside from defending our country. But I will tell you that I think it's time."
During her two years there, Mrs. Haley criticized the U.N. for bias against both Israel and the U.S. She also pulled America out of the U.N. Human Rights Council, after calling it a "cesspool of political bias."
In August 2017, she got the U.N Security Council to agree on sanctions on North Korea, including a total ban on North Korean exports. In July 2018, she helped establish a resolution on a U.N arms embargo on South Sudan.
Prior to being confirmed as the 29th U.N. Ambassador — by a 96-4 senate vote Jan. 24, 2017 — Ambassador Haley had served as the first female governor of South Carolina, the second Indian-American governor in the United States, and a member of the South Carolina House of Representatives. In 2016, she was listed among the world's 100 most influential people by Time magazine.
---
"It was a blessing to go into the U.N. with body armor on every day and defend America.

— Nikki Haley, United States ambassador to the U.N.

---
As governor, Ms. Haley signed a bill hoping to stop the South Carolina efforts of the BDS movement, which advocates for boycott, divestment and sanctioning from people and institutions connected with Israel. After her resignation announcement, the Israeli Ambassador to the U.N Danny Danon released a statement thanking her.
"Thank you for representing the values common to Israel and the United States," it read.
President Trump praised her, saying, "We're all happy for you in one way, but we hate to lose you. Hopefully you'll be coming back in some way."
The president said he would announce the next ambassador two to three weeks after her resignation, although her replacement is yet to be announced.
TABLE TALKS: New Chabad House in Pensacola opens just in time to help with hurricane; Nikki Haley stepping down