Brazil museum fire burns history of centuries
September 23, 2018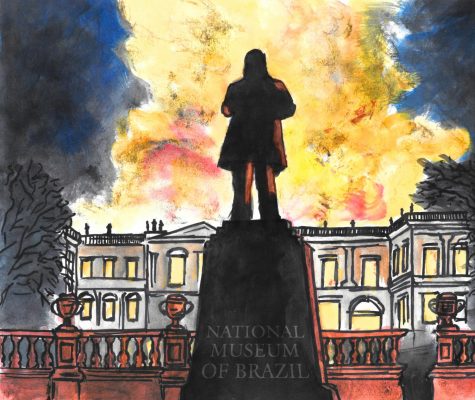 The 200-year-old National Museum of Brazil was burned to a crisp on Sunday, Sep. 2, after a fire which consumed all of its contents including research labs and decades of research, preservation and scholarship.
There were no injuries but almost all of the 20 million items housed in the museums were destroyed.
The cause of the fire is still unknown, but according to Brazil Culture Minister Sergio Sa Leitao, it may have been a paper hot air balloon landing on the roof of the museum.
The fire started at 7:30 p.m. local time when the museum was closed. For hours afterwards, firefighters were working to put out the flames, according to The New York Times, which also mentioned that the museum had no fire suppression system and that budget cuts had reduced maintenance service.
Located in Rio De Janeiro, the museum was the oldest scientific institution in Brazil and in its collection was the oldest human fossil in Latin America, known as
Luzia. The day after the fire, about 500 Brazilians gathered at the gate of the museum and protested the budget cuts made to the museum, which they believed led to the fire, according to BBC.