Faiths and viewpoints come together at Westwood vigil for Pittsburgh shooting victims
October 30, 2018
On a wide expanse of grass on the south side of Wilshire Boulevard, beyond the noise and traffic of the street, there was a stillness in the air as Jews and non-Jews alike stood holding candles Sunday night in honor of the 11 Jewish lives lost at a synagogue in Pittsburgh on Saturday morning.
According to police at the scene, about 700 people attended the candlelight vigil, which was held outside the Federal Building in Westwood from 6 p.m. until around 7:30, to remember the victims of the shooting in the Tree of Life synagogue. American flags lining the edges of the building's lawn all flew at half staff after an order from President Donald Trump regarding flags at all U.S. federal buildings.
"I thought it was meaningful," said Shalhevet art teacher Ms. Roen Salem, who attended the vigil with her husband. "It was nice, with the singing and the interfaith, getting other people in the community to speak, and the community was welcoming and appreciative of them."
The crowd was comprised of a mingling of faiths, with Jews, Muslims, Christians, and at least one Sikh and one Buddhist monk in attendance. Muslim men and women prayed on the side, kneeling and bowing their heads to the ground.
The time was divided among speakers and music. Los Angeles Mayor Eric Garcetti, who is Jewish himself, was among the first to speak to the continually growing crowd:
"Tonight, Jews and Christians and Muslims and people of every faith and even of no faith come together at this moment to light a candle with neighbors, to make a connection," Mayor Garcetti said, as people listened quietly and some nodded in agreement.
"We're told to be silent and just to remember, but tonight we will not be silent," he said. "If we are silent, let it be deafening."
He also referred to a question he'd been asked by Boiling Point reporters who had interviewed him earlier in the day.
"I was asked by a high school student who was Jewish today, 'What do we do right now, Mayor — what would your advice be to my peers, to young Jews?'" Mayor Garcetti said, speaking of his interview with BP staffers Eva Brous-Light and Shani Shaham, both freshmen.
"And I would say do not be afraid," he told the demonstrators. "This is your country. I would say do not retreat to our caves, or to our tribes, but reach out — to your fellow Jews, to the Muslims and Christians that are here…to people who have been attacked, and make sure that we say we will speak out loud and strong."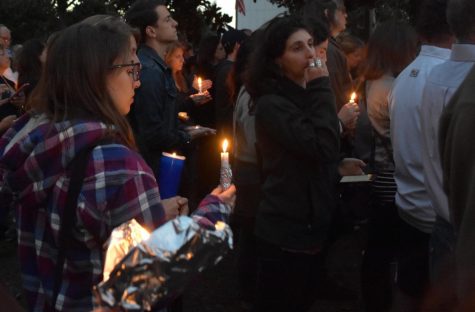 Other speakers included Rabbi Jason Weiner, chaplain of Cedars-Sinai Medical Center; Aziza Hasan, director of the Muslim-Jewish organization NewGround; and Rabbi Sharon Brous of Ikar synagogue, mother of Shalhevet freshman Eva Brous-Light. A guitarist led songs, including "One Day" by Matisyahu and the traditional "Oseh Shalom" and "Hinei Ma Tov."
Members of the crowd came for various reasons and with varying views. Los Angeles resident John Joanino, 26, who works for a nonprofit focused on racial equality, said he felt angry and disheartened when he first heard about the shooting.
"We have to stand up against anti-semitism, and, yeah, and you know, beloved community members losing their lives because of anti-semitism and hate," Mr. Joanino said. "It's not okay, anywhere."
He also said he wasn't surprised that the shooting had occurred.
"It's truly tragic that it feels like these are happening over and over again," he said. "You know, every community, Jewish, black, all these hate crimes back to back. We have to be the ones to stop it."
Others were surprised. One was Yigal Fatirian, who owns a sportswear company and came to the vigil "to show that even in times of darkness, we're all united as people."
"Just goes to show that we need to come together even more as people," Mr. Fatirian said. "Doesn't matter religion, race, color, you know, none of this matters, just coming together and showing peace and love. At the end of the day we're all more alike than different, so it's important to remember that."
Daniel Waknine of the San Fernando Valley said he had come to the vigil to comfort himself. He said people should "enforce the positive, and the closeness, and welcoming everybody."
Meanwhile, religious diversity was not the only difference among vigil attendees. Marsha Steinberg of BDS-LA for Justice in Palestine said she "felt horrible" for the victims but wished people would be equally sad for people she considers victims of Israel's policies.
"I wish the Jewish community would feel sensitized to Israel's crimes," Ms. Steinberg said. "I hate it when this crowd would never show up for any Palestinian children being shot."
An attendee named Fred Schultz, who held an anti-Trump sign, placed the blame for the shooting on the president.
"I blame Trump," said Mr. Schultz. "He caused this by whipping up the right."
Marina Del Rey resident Eli Weisman, 38, thought other societal elements were responsible.
"You're talking about an extreme version of right that we don't even know," Mr. Weisman said. "I've never seen anything like that. I thought that we got rid of them… They're hiding in a little corner somewhere, it's only a few of them. I mean, thank God there's not a lot of them."
As the event came to a close, a group of people formed around a guitar player and sang Jewish tunes in unison.
The 11 victims were Joyce Fienberg, 75; Richard Gottfried, 65; Rose Mallinger, 97; Jerry Rabinowitz, 66; Cecil Rosenthal, 59; David Rosenthal, 54; Bernice Simon, 84; Sylvan Simon, 86; Daniel Stein, 71; Melvin Wax, 88; and Irving Younger, 69.