The Nine: Short reviews of the 2020 Best Picture nominees
Watch the Oscars with The Boiling Point, live blogged by Jacob Joseph Lefkowitz Brooks and Zach Helfand beginning at five o'clock
February 9, 2020
Below are short reviews of all nine movies nominated in the Best Picture category of this year's Academy Awards, by Boiling Point editors.
Winners will be announced this Sunday at 5 p.m. at the Dolby Theatre in Hollywood at an awards show that will, like last year uncharacteristically have no one host. Click here for Jacob and Zach's live blog of the ceremony throughout the event.
Ford v Ferrari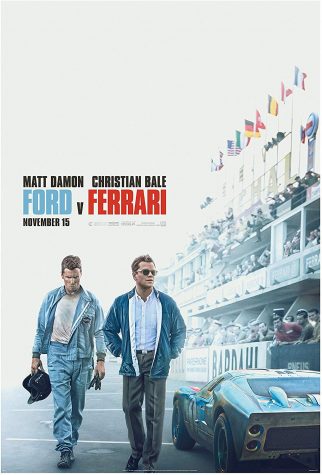 In Ford v Ferrari, an ambitious car racer turned manufacturer and a fiery driver are hired by the Ford
automotive company to take down Ferrari's stranglehold on car racing and become the first American team to win the 24 Hours of Le Mans, the most prestigious endurance car race in the world.
Hollywood A-listers Matt Damon, who plays Carrol Shelby, and Christian Bale, who plays Ken Miles, co-star in this drama set in mid-1960s America and France. Their chemistry on screen and fun jabs at one another carry this film.
Directed by James Mangold of Logan, the film puts the viewer in the mind of Bale's character during racing scenes, by using intense racetrack audio and cutting between external views of Miles' car and him inside.The Best Picture category usually has one or two "feel-good" nominees which tell a classic underdog story. Ford v Ferrari is certainly one of these, as the audience is made to root for Shelby and Miles over Ferrari's team and uptight Ford executives. Last year, a similarly toned Green Book took home Best Picture, so Ford v Ferrari's story does not necessarily mean it cannot win, but it certainly has a more conventional plot than other nominees like Parasite and The Irishman.
— Jacob Joseph Lefkowitz Brooks, Editor-in-Chief
Joker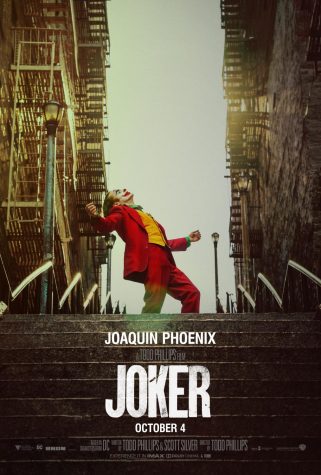 Though it may follow the life of the infamous supervillain, Joker breaks the mold of what a comic book film can be. The film does not rely on fantastical action sequences or classic sci-fi trope. Instead it looks at a man who is cast down by society.
Joker follows the life of Arthur Fleck, played by Joaquin Phoenix, a struggling comedian who battles mental illness in a society that offers no aid. Arthur is constantly attempting to be a part of the society around him, but can never seem to fit in quite right, presumably leading him to commit heinous crimes.
In an Oscar category that is filled with movies dealing about class, Joker does something unique. Director Todd Phillips wants his audience to feel uncomfortable, to know that something needs to be done not just for the poor but for those with mental illness. He wants us to ask ourselves a hard question: Is it Arthur or society that is to blame for his actions?
The culture takes most of the blame, throughout the film. Joker tells a thrilling story following a fascinating character and gives us a clear and direct message: There is more we can be doing to support people with mental illnesses in a society that currently turns a blind eye.
— Nicholas Fields, Managing Editor
1917
Two British soldiers go on a journey to save their comrades in the World War I story 1917.
The film's director, Sam Mendes, is most famous for his 2000 Best Picture-winning American Beauty, a personal psychological drama set in the suburbs. That movie's style would not seem like the blueprint for a war movie. Yet it's not so far from 1917, where Mendes explores the minds of its characters in the heat of battle.
The film is carried by a feeling of constant danger. Mendes' directing and the acting of breakout star George Mackey contribute to the intensity. There is very little dialogue; instead war noises of bombs, gunshots and running footsteps provide the sound track instead..
But the film's true star is the visual style of acclaimed cinematographer Roger Deakins, famous for visual masterpieces No Country for Old Men and Blade Runner 2049.
The film is shot using seamless cuts between scenes, so that the viewer does not recognize them and perceives the whole movie as one shot — a technique also seen in 2014's Birdman, whose cinematographer Emmanuel Lubezki took home the award that year. This eliminates any sense of calm a viewer normally experiences by having a clear indicator of when scenes end and new ones begin. The seemingly constant scene follows its characters as they traverse the striking landscape of Northern France. Deakins uses flares, candles and other unconventional light sources to make the natural world seem strange.
Some have compared the film's heavy use of tracking shots, where the camera follows a character walking, to that of a first-person-shooter video game. Like those games, 1917 achieves a level of intensity rarely found in film.
Its bleak yet striking visual style adds to 1917's visceral acting to make it one of the strongest contenders for this year's Best Picture Award.
— Jacob Joseph Lefkowitz Brooks, Editor-in-Chief
Little Women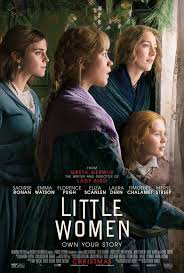 Hollywood's most recent remake of Luisa May Alcott's Little Women, directed by Greta Gerwig, makes a unique statement about feminism.
Based on the 1868 novel, the movie focuses on four sisters in post Civil-War America as they struggle with familial relations, romance, adult life, and pressure to get married. Jo, played by Saoirse Ronan, the second-to-oldest sister and dynamic main character of the movie, is a talented writer who doesn't care for societal norms. Her experiences and attitude towards marriage support the modern notion that women don't need to get married to live successful lives, but the film stresses something else as well.
The other three sisters each seek different paths in life; Meg, played by Emma Watson, has a family, Amy, played by Florence Pugh, focuses on her art and marries at the end, and Beth, played by Eliza Scanlen, devotes her time to music.
Considering the recent women's marches and the #MeToo movement, the movie is timely, but rather than directing women toward one empowering path, it insists that there isn't one "right" direction for women, and different life choices are valid.
Although Little Women is a top candidate for best picture, Greta Gerwig was not nominated for best director. The film may have been based on a classic, but Gerwig's adapted version included changes such as focusing more on Jo's passion for writing than her relationship with the professor, and having flashbacks from the sisters childhood rather than telling the story linearly, which made the movie what it was.
— Molly Litvak, Community Editor
Marriage Story
One of the most gut-wrenching movies nominated for best picture, Marriage Story, dissects the divorce process and leaves viewers feeling the losses in Nicole Barber's (played by Scarlett Johansson) and Charlie Barber's (played by Adam Driver) separation as if it were their own.
Nicole and Charlie's divorce seems to take on a life of its own, as their lawyers drudge through each client's opponent's entire life and romantic history, looking for dirt to work to an advantage. The movie shows the tug-of-war battles wages over every aspect of the exes' new lives: who gets custody of their son, where they will live, and whether work-related responsibilities would remain priorities over spending time with their son. As the tugging in court becomes more strenuous, we see Charlie and Nicole's relationship tearing in the gruesome game that is their divorce.
Marriage Story reveals what few people know: Divorce doesn't always mean that the love in a marriage is gone. It shows that marriages, friendships and other relationships are not simply black and white, but can be complicated, messy and draining, as well as wonderful.
Scarlett Johansson and Adam Driver manage to convey an emotional bond that persists even though their characters are divorcing, thereby demonstrating the complexity of love, visible through the camera and across technology onto your television screen— you may very well cry.
Tears aside, I highly recommend this Netflix movie because it includes love, hate and anguish, and it all feels so real. It's painful, but it remains hopeful. Stream it! It will grab your attention, and not let go.
— Jolie Wineburgh, Arts & Culture Editor
Once Upon a Time in Hollywood
Once Upon a Time in Hollywood takes you through Hollywood in 1969, focusing primarily on a has-been alcoholic Western movie star named Rick Dalton, played by Leonardo DiCaprio, and Rick's stunt-double, driver and friend Cliff Booth, played by Brad Pitt.
The storyline links Rick and Cliff's friendship to the Manson family murders, which happened at the same time period the movie takes place. The actress and real-life victim Sharon Tate, played by Margot Robbie, and her husband Roman Polanski, who is barely shown in the movie, are next-door neighbors to Rick, who dreams of being cast in one of Polanski's films.
Along with the well-developed plotline, the movie has many comedic scenes and components, and will most likely have you hysterically laughing by the end. The finale is arguably the most memorable and entertaining scene, where Tarantino twists history to give Sharon Tate the happy ending she never got.
Unlike in some of Tarantino's other films, the action in Once Upon a Time in Hollywood is mostly reserved for the violent ending, causing certain scenes to feel slow. However, Once Upon a Time in Hollywood's creative storyline and humor make it a strong contender for Best Picture.
— Molly Litvak, Community Editor
Parasite
Bong-Joon Ho is known for his wild allegorical tales, most notably Snowpeircer and Okja. Both are somewhat heavy-handed yet entertaining films which deal with the social issues of class struggle and animal cruelty, respectively.
Parasite finds Bong perfecting his use of allegory within an incredibly captivating plot, which follows a poor family that attempts to become employed by a rich but clueless family.
Bong's trademark black comedy shines in the film, which rarely has purely comedic or dramatic moments, instead finding a constant unsettling tone.
Written by Bong, the film takes on the same theme — class — as Snowpeircer, yet has more layers in its analysis, using much more visual symbolism than his previous films, and connecting it with other themes of family and fate.
Carrying the intense narrative structure is the film's versatile cast. Song-Kang-ho and Park So-dam deliver some of the strongest performances of the year. Unfortunately, no Parasite actors have been nominated for an Oscar or any of the other many award shows this season, instead being looked over for more notable American actors.
Parasite is one of the most daring films to be nominated for an Oscar in recent memory and perfects the rare blend of a captivating plot and an intense social message. It genuinely has the ability to change the viewer's worldview on a global struggle, and is a great candidate for the Best Picture Award.
— Jacob Joseph Lefkowitz Brooks, Editor-in-Chief
The Irishman
The Irishman follows a character named Frank Sheeran as he transforms from a lowly truck driver to a mob hitman and key player in the truckers union, set in 1950's Pennsylvania.
This film differs from the rest of the nominees because it is a character study of Sheeran, meaning that rather than following a single primary conflict or ordeal, it follows his life in a biographical manner, exploring his character over the span of a few decades.
Martin Scorcese is considered a master when it comes to character studies, and he directs this film, starring Robert De Niro as Frank Sheeran, with Al Pacino and Joe Pesci in supporting roles.
The film has been criticized by many for being too long, with a runtime of three-and-a-half hours, and moving very slowly. For some, this coupled with the lack of a singular, central conflict makes the film difficult to watch and hard to follow. Certain scenes are included with heavy amounts of dialogue that might seem extraneous a more traditional movie, but Scorcese uses this method of examining his main character, rather than the plot.
— By Zach Helfand, Opinion Editor
Jojo Rabbit
Set in Nazi Germany, Jojo Rabbit is a tale of a 10-year-old boy with an unusual imaginary friend: a comedic incarnation of Adolph Hitler. Jojo, a soft-hearted, well intentioned, naturally kind boy played by Roman Griffin Davis, doesn't fit in with other rougher, crueler children in the Nazi youth program. When Jojo discovers his mother is hiding a Jewish girl in his house, he is forced to reevaluate everything he has been taught. Taika Watiti directs and acts in a supporting role as Jojo's imaginary Hitler; Scarlett Johanson and Thomasin McKenzie co-star as well.
This film finds a way to meld together genres and narratives. It is both funny and touching, serious and laughable, satirical and real. You'll laugh as a comedic Hitler tries to guide Jojo, and your heart will melt as his mother tries to raise him amidst the horrors of Nazi Germany.
Controversy surrounds the film due to its light portrayal of Nazi Germany and Nazi characters, and for depicting Hitler in such a comedic way. A movie like this runs the risk of appearing lewd and insensitive, but Watiti is able to navigate perfectly between artistic (and at times, funny) expression and obscenity, narrowly traversing and just barely not crossing a line.
Despite coming from a less acclaimed director and having the strangest subject matter of the nominees, Jojo's hilarious yet tragic script and the acting of breakout young stars has carried the film into a strong band of Best Picture nominees.
— Zach Helfand, Opinion Editor