LIVE BLOG: The Oscars with Sadie Toczek and Jacob Joseph Lefkowitz Brooks
March 4, 2018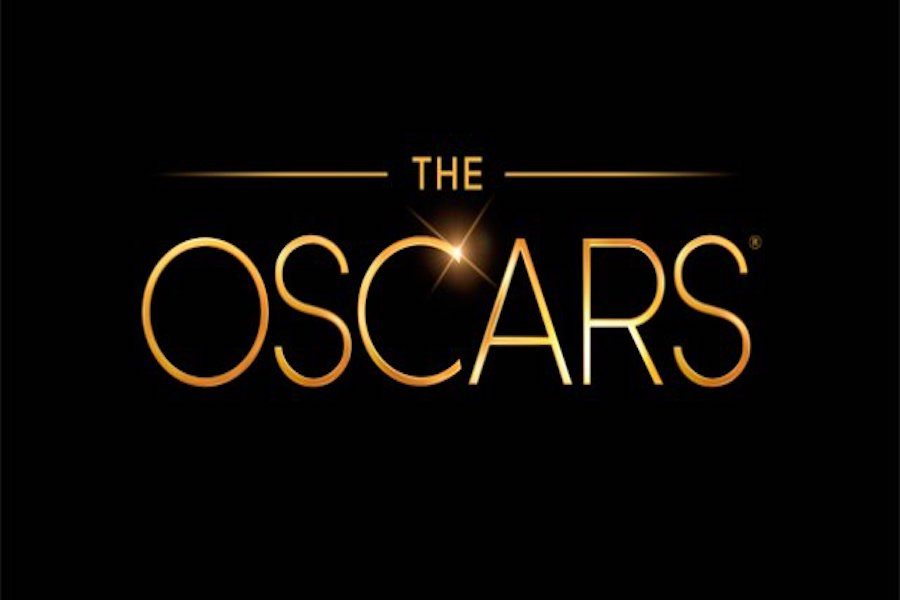 This page is being updated throughout the Oscars awards ceremony by BP Lifestyles Editor Sadie Toczek and Features Editor Jacob Joseph Lefkowitz Brooks. Click here to read short reviews of the nine movies nominated in the Best Picture category of this year's Academy Awards.
8:53 Sadie – Thank you all for tuning in! Hope you enjoyed.
8:52 JJLB – But thank you to everyone that read this! Congratulations to all the winners! Have a great night, see you next year!
8:51 JJLB – Just saying, I got 17/24 right, pretty proud of myself.
8:46 JJLB – Yesss! GO SEE THE SHAPE OF WATER!!!!!!! Congratulations Guillermo Del Toro and all of the cast and crew!
8:45 JJLB – I just want to say that this was the first year that I saw all of the Best Picture nominees and I'm so glad I did. All of these movies are special and each one is worth seeing.
8:42 Sadie – Known fact – they actually hate each other.
8:41 JJLB – Warren Beaty and Fay Dunaway from last year's Best Picture fiasco are back to present the award once again. Let's see if they get it right this time.
8:40 Sadie – I disagree, it just has the most hype.
8:39 JJLB – Ya, I think it was the most groundbreaking and special movie of the bunch. I'll be really disappointed if Three Billboards wins.
8:39 Sadie – For Best Picture, my money is on Shape of Water.
8:36 Sadie – McDormand called upon everyone female in the industry to stand up and get applauded. She closed with a message of inclusion.
8:35 JJLB – Yup, I'm honestly very annoyed that they are giving awards to more well known actors like McDormand, Oldman, Rockwell, and Janney instead of young and upcoming actors. But this speech is really great and I'm glad someone did it.
8:32 JJLB – I really think McDormand is going to win though.
8:31 JJLB – There are a lot of great actresses in this category. I'd like to see Saorise Ronan win.
8:25 JJLB – Yup, Oldman was amazing and managed to take such a difficult role of Winston Churchill and portray him in a really beautiful way.
8:22 JJLB – I really would like to see Timothee Chalamet win this award but I think Gary Oldman will take it.
8:19 JJLB – Chrissy Teigen and John Legend's google commercial is hilarious.
8:18 Sadie – As oppose to Casey Affleck presenting best actor, 4 women including Jennifer Lawrence, Jodie Foster, Jane Fonda and Hellen Mirren, will be replacing him. They chose to have 4 women leading this to not be a clear snub at Affleck.
8:15 Sadie – I was just happy to see a female nominated in this category. She is a winner regardless of what the Academy thinks.
8:14 JJLB – While I think Del Toro is taking this award, Greta Gerwig deserves a lot of recognition for her incredible work on Lady Bird.
8:09 JJLB – We say goodbye to many important people in the industry such Harry Dean Stanton, John Heard, Martin Lando, Roger Moore and Jerry Lewis.
8:05 Sadie – Now, they presented a slideshow of those who passed away but left a legacy to the motion picture world.
8:05 JJLB – Oh wow this really defied expectations and I'm happy. Sometimes songs with an overt message like Stand Up for Something or This is Me end up feeling dry.
8:03 Sadie – Coco took home the award for original song.
8:01 JJLB – Shape of Water wins best original score as I called. The nostalgic and romantic music perfectly accompanies the futuristic story.
8:00 Sadie – Best original score goes to Alexandre Desplat for his work in Shape of Water. This is his second Oscar following his first win in The Grand Budapest Hotel.
7:57 JJLB – Kimmel acknowledges the orchestra to rousing applause.
7:54 Sadie – Again, completely in line with tonight's theme of diversity and acceptance. So on par and beautiful.
7:53 JJLB – This performance is really great. Singer Keala Settle is surrounded by a chorus of people from all different sizes, ages and ethnicities.
7:52 Sadie – It was written by the same geniuses behind the Oscar winning movie La La Land and the Tony award winning musical "Dear Evan Hansen."
7:51 Sadie – "This Is Me" from the musical movie, The Greatest Showman was the final song being preformed. It is about overcoming adversity and being yourself unapologetically. You cannot listen to this song without dancing.
7:49 JJLB – Ya I agree but Blade Runner is on a whole other level.
7:49 Sadie – I think Shape of Water should of won. If anything it was stunning to look at.
7:48 JJLB – Cinematography should go to Blade Runner but we'll see.
7:47 JJLB – Wes Studi, A Vietnam War veteran and movie star presented the montage.
7:45 Sadie – The Academy just thanked all the men and women who sacrificed themselves to serve for our country. Super special idea.
7:38 Sadie – He spoke about loving in the face of hate, and I think that is yet another message and theme throughout this whole award show.
7:38 JJLB – It really used the genre of horror to talk about bigger issues. Hopefully other young directors see Peele as an example.
7:37 Sadie – I stand corrected, but definitely not upset about that! Get Out was unlike anything else, and spoke about issues such as race and equality.
7:37 JJLB – And it (Get Out) does. Really came out of nowhere. Jordan Peele is the future!'
7:36 Sadie – Shape of Water is I think,
7:36 JJLB  – I think Get Out is going to win. It was the epitome of original screenplay.
7:35 JJLB – That was my favorite speech so far. If anyone in our audience ever wins an award, write down your speech if you can't memorize it.
7:34 JJLB – Agreed completely.
7:34 Sadie – So well deserved. A cinematic treasure.
7:33 JJLB – This is a great category. While Call Me by Your Name won, several of these movies brought great writing to the screen.
7:32 Sadie – I am finally right!
7:31 Sadie – My money is on Call Me By Your Name.
7:31 JJLB – I agree. Several films this year promoted a message of equality and I think the industry is really getting somewhere.
7:30 Sadie – I think this fits in perfectly with the theme here at the 90th Oscars. It is a night truly about acceptance and the betterment of the future. Inspirational in every sense.
7:29 Sadie – They showed a movie featuring actors and writers who defied stereotypes and refined norms in Hollywood. This includes women directors, Pakistani actors, transgender directors as well as people representing every other minority.
7:27 Sadie – Salma Hayek, Ashely Judd and Annabella Sciorra presented The award for Best Original Screenplay but not before mentioning Time's Up and the progress that the world has made. They talked about moving forward, and the next 90 years being about equality and inclusion.
7:24 JJLB – The movie is about Thurgood Marshall, an American lawyer who represents a man accused of rape. Standing up for others relates well to the theme.
7:22 Sadie – The song focuses on standing up for what you believe in. It includes people of all different races, ages and genders all holding red handkerchiefs.
7:22 JJLB – Common and Andrea Day's song "Stand Up for Something" from Marshall is about being a voice for those who need it and speaking up for a cause.
7:20 Sadie – Common's song began with him mentioning issues of the NRA with regards to the tragedy in Parkland, feminism and immigration.
7:17 Sadie – The Silent Child won the award for live action short. The award was accepted with raising awareness of issues of childhood deafness. The lead actress even signed the acceptance speech so the child actress could understand too. Beautiful.
7:13 JJLB – And I don't, Best Documentary Short Subject goes to Heaven is a Traffic Jam on the 405. 
7:12 Sadie – Retweet!
7:12 JJLB – I haven't watched some of these so if I don't get it right, not my fault.
7:10 Sadie – In a culture that idolizes celebrities, it was very unique to see every name celebrity forget about the glamour of the oscars and enter a regular theater to thank random people. Even one of the audience members, Mike, read the announcers names.
7:08 JJLB – Imagine just going to see a movie on a Sunday night and then getting hit with a hotdog shot by Ansel Elgort!
7:07 JJLB – Movie attendance has been dropping for years. Just last year, it saw a 6% drop. Perhaps this is an attempt to increase ticket sales.
7:05 Sadie – The A-list celebs have baskets filled with movie candies and hotdogs canons as a way to show their appreciation.
7:04 Sadie – Kimmel asked for volunteers out of this star studded event to thank movie goers who keep the arts alive. Margot Robbie, Gal Gadot, Ansel Elgort, and Armie Hammer are just a few names that are going to surprise audience members screening the movie A Wrinkle In Time across the street.
6:57 JJLB – Like I said, Dunkirk takes the editing. See these movies people!
6:55 JJLB – The sequel to 1982's Blade Runner, Blade Runner 2049 is a beautiful futuristic masterpiece.
6:53 Sadie – JJLB cannot get one wrong tonight! Wow.
6:52 JJLB – Blade Runner's gonna take this. It was visually stunning and had breathtaking cinematography.
6:52 JJLB – That was a really funny ad for the Overlook Hotel, a fictional hotel in The Shining. I can never get over that Tom Holland is British.
6:50 JJLB – No, I agree it fits the theme very well, but as I was watching it just felt oddly fast paced and "American" in the beautifully gentle European style film.
6:47 Sadie – I so disagree Jacob. It was completely reflective of how the main characters were feeling. Could not have fit better if they tried. Yes, it was a slow-tempo film, but it was also filled with joys such as first love and acceptance, which is why the song is so fitting.
6:46 JJLB – To be honest I thought Sufjan Stefans was by far the worst part of Call Me By Your Name. While I like the song, it was out of step with the slow-tempo film. I did really like that performance though
6:45 Sadie – "Mystery of Love" is being preformed now from the hit movie Call Me By Your Name. This movie touched thousands of people because it touched on the struggle of first love and heartbreak, in the process of discovering oneself. Truly a standout hit.
6:42 Sadie – Coco won yet another award for best Animated film. It is really on fire tonight. The award was accepted with the idea that representation matters. Bravo.
6:39 Sadie – Dear Basketball won best animated film. Although Kobe was never convicted, this nomination does not align with Hollywood's motives tonight.
6:38 JJLB – And Lakers legend Kobe Bryant adds an Oscar to his trophy wall, what an achievement!
6:38 JJLB – We didn't mention it but A Fantastic Woman won best Foreign Language Film. The chilean film is a watershed moment in transgender film as it tells the story of a transgender singer who faces backlash.
6:37 Sadie – Confused why Kobe Bryant is still nominated….
6:33 JJLB – The next "The Box" features composer Hans Zimmer as he struggles to play a song until a man uses the box as a drum. I like it.
6:31 JJLB – Alison Janney wins Best Supporting Actress for her role as LaVona Harding in I, Tonya. She opens her speech with "I did it all by myself" prompting laughter before she begins to thank the entire cast and crew.
6:30 Sadie – Allison Janney steals the Oscar for best supporting actress. So well deserved!
6:26 JJLB – What can I say?
6:25 Sadie – I swear your TV is faster than mine…
6:24 JJLB – So everyone knows that I'm not making this up as I go…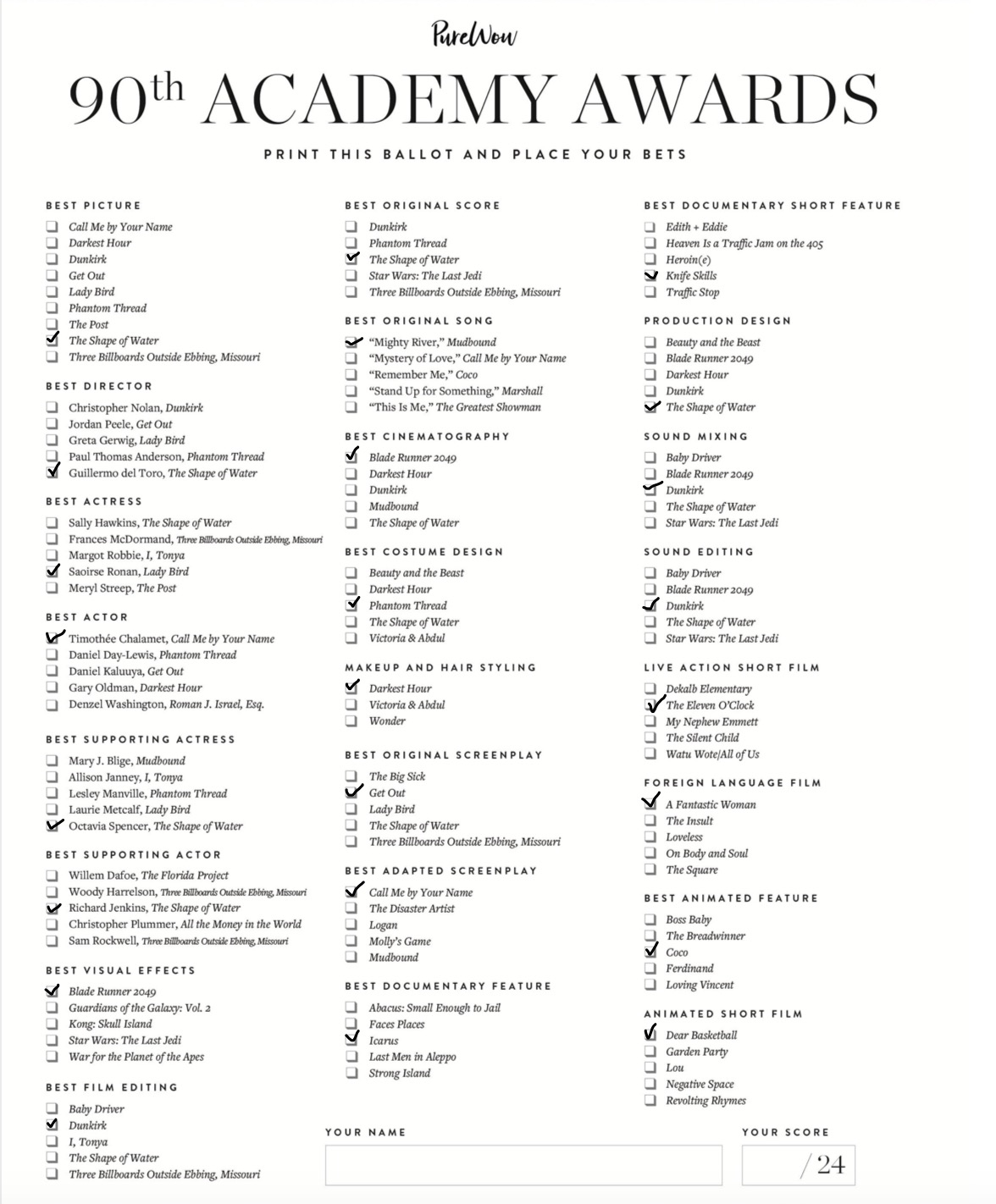 6:23 JJLB – Rita Moreno, who played Anita in Westside Story presents the award for Best Foreign Language Film.
6:20 Sadie – Agreed. Another example of minorities being represented at the Oscars. Beautifully executed.
6:18 JJLB – Gael Garcia Bernal, Miguel, and Natalia Lafourcade perform the bilingual single "Remember Me" from Coco. The backup dancers and and set decoration convey a strong Mexican vibe and are a great advertisement for the film.
6:12 JJLB – The Shape of Water, filmed in Toronto, wins the Oscar for Production Design. It was truly brilliant and made you feel as if you were in Cold War America.
6:11 Sadie – Lupita Nyong'o and Kumail Nanjiani present Production Design award, but first call attention to the fact that they are immigrants and stand with the DACA "Dreamers."
6:05: JJLB – You might be noticing Walmart's "The Box," three 60-second ads by different directors featuring a Walmart box.
6:02: JJLB – And Dunkirk does take home both sound awards. I'll take money to tell you your future.
6:01:  JJLB – Why?  Dunkirk takes home yet another award, in the category of Sound Mixing.
6:00 Sadie – Baby Driver should win sound mix.
5:59 JJLB – Dunkirk truly had an atmosphere that I have never seen in a movie, and that is thanks to the sound and editing departments. I wouldn't be surprised if they swept those categories.
5:56 Sadie – Amazing montage of some of the greatest films ever — Toy Story, Little Miss Sunshine, The Princess Bride, Easy Money, Dunkirk and more.  There were legit 100.
5:52 JJLB – Twitter comes out of nowhere with a powerful ad supporting female empowerment and the #HereWeAre, which advocates companies elevating unheard voices.  You can see it here.
https://www.youtube.com/watch?v=FMfRRzdC48s
5:47 Sadie – Mary J. Blige's performance of "Mighty River" from Mudbound with a backup chorus is powerful and emotional.  She even wrote this song!
5:44 JJLB – Icarus wins best documentary feature. Originating with Bryan Fogel's personal experiment, the investigative film ends up uncovering doping all over sports. It is available on Netflix, go watch it!
5:32 JJLB – And there it is. The film centers on a dress maker and is full of exquisite 1950's English fashion.
5:32 Sadie – Psychic! Phantom Thread wins the Oscar for costume design.
5:31 JJLB – Costume design is up, my money is on Phantom Thread.
5:28 JJLB – Kazuhiro Tsuji, David Malinowski, and Lucy Sibbick completely transformed Gary Oldman into the famed British Prime Minister Winston Churchill.
5:27 Sadie – Makeup and Hairstyling Oscar goes to Darkest Hour.
5:20 JJLB – Rockwell takes home best supporting actor for his portrayal of the bumbling Officer Dixon in Three Billboards Outside of Ebbing, Missouri. 
5:19 Sadie – Meryl is up for her 21st Oscar nomination. Not too bad.
5:15 Sadie – He prefaces the show by calling it a "Night of Change." Noting Black Panther and Wonder Women being box office hits despite the leads being a minority!
5:14 JJLB – Joking at the length of speeches, Kimmel offers a jet ski presented by Hellen Mirren for the shortest speech.
5:12 Sadie – Also jabbing at Trump's tweeting rampages!
5:10 JJLB – Kimmel gets political, mentioning Harvey Weinstein, #TimesUp and the wage gap and praises several groundbreaking nominees.
5:07 Sadie – This is his second time hosting the Oscars.
5:04 JJLB – Jimmy Kimmel begins his monologue addressing last year's Best Picture fiasco.
5:00 JJLB – And here we go! Welcome everyone to the 90th annual Oscars!
4:50 Sadie – As much as the fashion is incredible to look at, I am excited to get to the main event. Cannot wait to focus on the film industry and let the artists and actors get the praise they deserve. 10 minutes!
4:49 JJLB – Gary Oldman looks unrecognizable from his appearance as Winston Church in Darkest Hour.
4:48 Sadie – Nicole Kidman won. Bow down.
4:47 Sadie – Gal Gadol looks WONDER(😉)-ful in a sparkly deep plunge gown. She looks expensive!
4:46 Sadie – Saorise Ronan in Calvin Klein by Appointment stuns in a simple pink ankle length dress with a big bow in the back. She is killing it on the carpet and probably tonight. My money is on her for taking home best actress award.
4:45 Sadie – 15 minutes until showtime! Put down those books and turn on the TV!
4:35 Sadie – Jennifer Lawrence, alongside Jodie Foster, is set to announce the best actress award instead of Casey Affleck. This is huge and totally nontraditional, but it is a huge step towards Hollywood putting its foot down against sexual misconduct. Bravo.
4:30 Sadie – Other best dressed possibilities include Viola Davis in a bright pop of pink by Micheal Kors and a big pony tail, as well as Jennifer Lawrence in a gold beaded Dior dress with a  beach wave hairdo. Both styling different looks than other actresses on the carpet tonight.
4:14 Sadie – Mary J. Blige sparkles in a beaded white Versace dress. Super simple, classy and definitely a winner.
4:12 JJLB – Dern played Admiral Holdo is Star Wars the Last Jedi. 
4:10 Sadie – Laura Dern in Calvin Klein by Appointment looks breathtaking in a slick white cold shoulder dress. Fits her perfectly.
4:04 Sadie – Stunning in Gucci, Salma Hayek walks down the red carpet in a purple sequin gown with crystals draped over her back. The best look of the night so far.
4:02 JJLB – Mary J Blige is the first person ever to be nominated as both an actor and singer for her work on Mudbound.
3:58 Sadie – Ryan Seacrest will host the E! Live From the Red Carpet event in spite of allegations of sexual misconduct of misconduct. In an era of #MeToo, and with the Academy not nominating James Franco, Casey Affleck not being able to present, E! letting Seacrest host is unfitting.
3:55 Sadie – Multiple women have been seen wearing pins saying "Time's up." This is in lieu of the all black gowns that were sported at the Golden Globes and BAFTA awards.
3:40 JJLB – Williams played star Daniel Kaluuya's girlfriend in Get Out.
3:35 Sadie Toczek – Wearing Armani Prive, Allison Williams (star of Get Out) stuns in a light pink beaded dress and old Hollywood inspired wavy hair. Definitely a best dressed contentor.
LIVE BLOG: The Oscars with Sadie Toczek and Jacob Joseph Lefkowitz Brooks