Eli Broad: Rags-to-riches philanthropist
October 18, 2015
The new Broad Museum is not the Broads' first contribution to the arts and probably won't be the last.
According to Forbes, Eli Broad is among the 200 most wealthy people in the US.. With millions earned heading two Fortune 500 companies, he has created his own foundation while also generously supporting LA Opera, MOCA, Disney Hall and the Colburn School, as well as Jewish causes.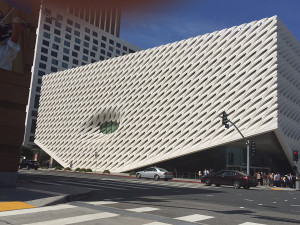 Born to Jewish immigrants from Lithuania, Mr. Broad embodies a rags-to-riches story that turns from being the CEO of the two Fortune 500 companies — KB Homes and SunAmerica — to retiring in his 60s to a career of what he calls "venture philanthropy."
He and his wife, Edythe, have been married for 57 years and formed their foundation in the 1960s.
"Our philanthropy is not simply writing a check and giving," Mr. Broad told CNBC in 2012. . "It's really what I call 'venture philanthropy'… And the idea is we are investing, and we are investing for a return…
"In the arts, it's trying to get a much bigger audience. [We] try to educate a broad public on what the arts mean and how they fit in society. So we don't just write checks –we work hard at it."
Aside from basically creating the LA art scene, he has also donated to the American Jewish Committee, American Friends of the Israel Philharmonic, Anti-Defamation League and B'nai B'rith, and gave a $100,000 grant to Friends of Israel Arts.