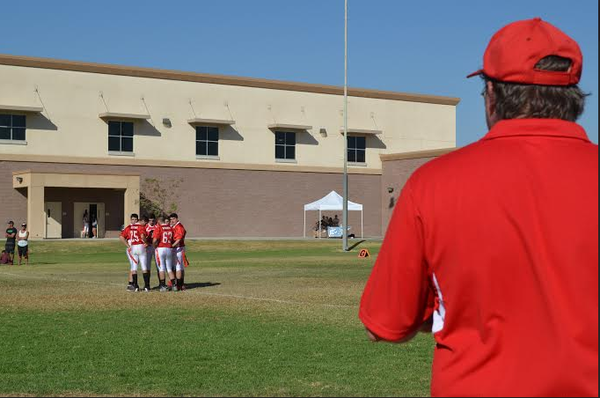 An integral member of the Boys' Flag Football Team will not take his place on LACES field tonight when the undefeated Firehawks open their first-ever playoff season against New Community Jewish High School at 5 p.m. Math and science teacher and debate and flag football coach Chris Buckley resigned from Shalhevet Oct. 29.
After leading his team to 12 consecutive victories in only its second season, Mr. Buckley shocked team members and the entire Shalhevet community with his resignation yesterday at around 1 p.m.
"My initial reaction — I broke into tears, I couldn't hold anything back," said football team captain Mati Hurwitz. "And moreso, even more than the timing of this around our football game and our perfect season, is that someone who I consider a role model and a great friend doesn't have a job."
During fourth period Mati, two of his teammates and leaders of the girls' flag football team were pulled out of their respective fifth period classes by Head of School Rabbi Ari Segal and Principal Reb Noam Weissman, who informed the group that Mr. Buckley had resigned and no longer held a position at the school.
Team members in attendance – Mati, fellow seniors Jeremy Glouberman, Max Helfand, Nicole Feder and Goldie Fields and junior Rachel Sentchuk – were shaken and disconsolate.
As word spread through Shalhevet during 5th period, students flocked to the JCC lobby to discuss the news. Some students were crying, while others thought Mr. Buckley's resignation was Color War breakout.
To move students out of the lobby, Rabbi Segal called a student-wide meeting in the auditorium, where he agreed to answer questions.
"I can't name the reasons why he resigned, but obviously he felt wronged," Rabbi Segal told the room. "I can't tell you more because I can't discuss personnel issues."
Athletic Director Mr. Eli Schiff informed the team that Charlie Weisel, parent of sophomore defensive lineman Alexander Weisel, would be interim coach for the playoff game Thursday and, if the team wins, the championship game next week.
"I'm disappointed," Mr. Schiff said of Mr. Buckley's departure. "He's a good coach, everyone likes him and it's a pity he had to leave when he did."
Despite his resignation, Mr. Buckley continued to help the team go over the game plan for tomorrow's game through the exchange of text messages and phone calls with team players, according to junior quarterback Jacob Dauer. In an interview, Mr. Buckley confirmed to the Boiling Point that he suggested strategies and adjustments to employ at the game, and offered advice, pointers and adjustments.
Mr. Buckley said he met with junior running back Micah Gill to return all the gear and field equipment needed for the game and later e-mailed him the game plays.
"We're all upset but at the end of the day, we trust the school's decision of what they did and we're going to have to play that much harder," said Jacob. "We think we're still going to win."
"I'm going to start calling the plays in the huddle and Adam [Kaufler] is going to start patrolling the defense."
At all prior games, Mr. Buckley called the plays from the sidelines.
The players said they would dedicate the game to Mr. Buckley.
"I think we're going to wear his initials on our jerseys, and his name will come up in the huddle," said Jacob.
"He is still my coach and will always be my coach," said Mati Hurwitz.
Mr. Buckley joined the Shalhevet faculty in 2002 and has at various times taught Chemistry, AP Chemistry, Physics, AP Physics, AP Statistics, Geometry, Algebra, Algebra 2, Pre-calculus, Calculus and Government.
Model Congress teams under his direction have won Best Delegation awards and hundreds of individual awards at Princeton and Penn Model Congress, where they compete against top prep schools from the East Coast.
He told The Boiling Point that flag football had been a highlight of his career.
"My tenure at Shalhevet was already very fulfilling, and the addition of football was like something special that I never could have imagined before," said Mr. Buckley. "I don't think I was ever happier than being on the field coaching."
Asked if he would be at LACES for Thursday's game, he replied, "Yes, absolutely."
Related VIDEO: Football Firehawks crush New Jew 35 – 0, remain undefeated
Related: Football team, still undefeated, conquers New Roads
Related: Football team wins eighth straight, this time against YULA
Related: Boys football remains undefeated, defeats Vistamar 18 – 7