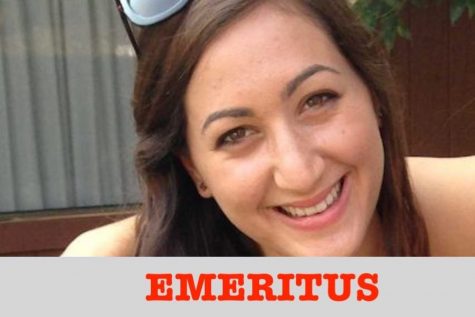 Tamar Willis is a graduate of Princeton University where she wrote and served as business manager for the culture magazine
Nassau Weekly
.
She joined the Boiling Point staff in ninth grade and served as Staff Writer, Features Editor, Outside News Editor and Sports Editor, winning national awards in feature writing from Quill and Scroll, the American Jewish Press Association and the Columbia Scholastic Press Association.  In high school, English and US History were her favorite subjects, and she loved to read and write, especially for the Boiling Point!
Tamar says that if she were a punctuation mark, she would be an Oxford comma or an exclamation point.  Tamar could eat sushi for breakfast, lunch, and dinner, and she thinks 
Clueless
 is one of the best movies ever made.
Tamar was Deputy Editor and then Editor-in-Chief of the Boiling Point in 2013-14 school year, leading the paper to its second CSPA Gold Crown Award the following spring.  After graduating from Shalhevet, she attended the international-and-Israel gap year program Kivunim.
Tamar Willis, Editor-In-Chief Emeritus
Nov 09, 2012

With East Coast prices high, Orthodox students are now building communities on UC campuses

(Story/Media)

May 28, 2014

At Habitat house, a day of sun, sweat and spackle

(Story)

Mar 12, 2014
Mar 10, 2014

Waxman reflects on a Jewish life in U.S. politics

(Story)

Feb 14, 2014

Why you're wrong about feminism

(Story)

Jan 01, 2014

Penn Model Congress back on as administration finds 'alternative consequences'

(Media)

Dec 17, 2013

Penn Model Congress trip off due to 'egregious' behavior on Princeton trip

(Story)

Nov 20, 2013

What's in a pseudonym?

(Story)

Oct 31, 2013

Fire truck arrives on campus after alarm goes off, cause is unknown

(Story)

Oct 27, 2013

Student's coffee business shut down during lunchtime due to contract with caterer

(Story)

Oct 02, 2013

Newt Gingrich tells BP that for Israel, in a tough neighborhood, 'survival is victory'

(Story/Media)

Jun 17, 2013

VIDEO: Goodnight, Shalhevet

(Media)

May 31, 2013

Paint confusion sabotages senior prank

(Story)

Apr 19, 2013

Alumni in Boston in lockdown during hunt for second Marathon suspect

(Story)

Mar 13, 2013

PLO ambassador tells JCC audience that separation is the key to peace

(Story)

Feb 21, 2013

Asking questions and facing danger, alumnus mines complexity of the Middle East

(Story)

Nov 18, 2012

Boiling Point wins honors at NSPA convention in San Antonio

(Story)

Nov 05, 2012

2 Boiling Points of View: Steering the right course, Obama for President

(Story)

Sep 07, 2012

Three trends switch your wardrobe from summer to fall

(Story)

Sep 01, 2012

The Happy Mystery That Is Ghana

(Story)

Feb 18, 2012

Tamar's Blog: Something to believe in

(Story)

Dec 23, 2011

From soccer to surfing, Sophie's played it all

(Story)

Dec 13, 2011

Live blog of Shalhevet-YULA Varsity Basketball game

(Story)

Oct 26, 2011

New caterer has taken over the kitchen

(Story)

Jun 29, 2011

'Indispensible' assistant leaves for Maimonides

(Story)

Jun 03, 2011

Yom Hashoah: A mother's tale of the Holocaust, told at the piano

(Story)

Jun 03, 2011

Students' AP Psych experiments find students… normal

(Story)

Apr 18, 2011

'Caspian Rain' author offers insight on Iranian culture

(Story)

Mar 11, 2011

'Race to Nowhere' highlights pitfalls of school stress

(Story)

Mar 11, 2011

Debbie Friedman's music lives on

(Story)

Jan 07, 2011

Wrist candy: Fun or inappropriate, Silly Bandz and 'I Love Boobies' bracelets are all the rage

(Story)

Jan 05, 2011

Through organ donation, a pink dot on your driver's license could save a life if you unexpectedly lose yours

(Story)

Dec 31, 2010

Story of a Model Congress bill: Point, counterpoint, teamwork

(Story)

Dec 31, 2010

Debate team finishes strongly at Princeton Model Congress in D.C.

(Story)

Nov 01, 2010

New resource specialist befriends all kinds of students

(Story)