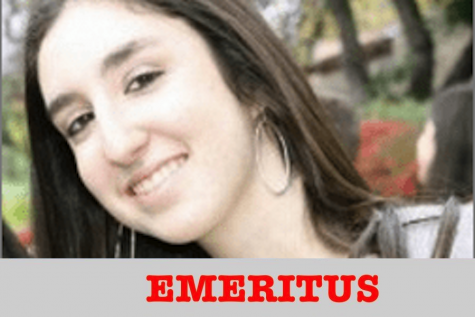 Currently a staff writer at the Los Angeles Times, Leila has already had a distinguished career in journalism, writing ground-breaking reports for the Miami Herald, Moment Magazine and the Jewish Journal, particularly on the Jewish community in Argentina and its history through that country's "dirty war" and beyond. She also has interned for KCRW News in Santa Monica.
A graduate of Columbia University's Graduate School of Journalism in New York, she is Argentinian by birth and fluent in Spanish. She enjoyed her first
dulce de leche
ice cream at five months, became a Harry Potter fanatic at age eight, and got her second ear piercing at 14. Leila joined The Boiling Point team as a freshman, and her story assignments led her to her first-ever rock concert at the Troubadour (Say Anything!), watch intense behind-the-scenes Drama rehearsals, and wake up early before school to interview Jewish community leaders in Chile after the earthquake there. She was also the Shalhevet choir's piano accompanist and would go ice skating with you at a moment's notice!
Leila was Editor-in-Chief of the Boiling Point for the 2011-12 school year, and graduated in 2016 from Oberlin College.
Leila Miller, Editor-in-Chief Emeritus
Jun 29, 2012

Color War opened with drug-testing ruse

(Story)

Jun 14, 2012

HAREDI: Behind the label is a world apart

(Story)

Jun 14, 2012

HAREDI: From Beit Shemesh, a spark that exposed a simmering fire

(Story)

Jun 12, 2012

Haredi Dating: Rabbis, research, resumes and a look into the soul

(Story)

Apr 02, 2012

Milken's Jason Ablin to blend Judaic, General Studies here

(Story)

Mar 26, 2012

Rabbi Leubitz leaving next year to be head of Oakland Hebrew Day School

(Story)

Mar 21, 2012

Fairness Committee votes 6-5 not to block Facebook

(Story)

Dec 23, 2011

Shalhevet Drama finds an unexpected mirror In 'Pride and Prejudice'

(Story)

Dec 22, 2011

New Sephardic minyan lets students feel at home

(Story)

Nov 21, 2011

Hallway mania: Students watch live streaming of Houston basketball tournament

(Story)

Oct 31, 2011

As readers and as writers, students brave the blogosphere

(Story)

Oct 04, 2011

Poland-Israel trip moved back to May

(Story)

Aug 27, 2011

For Eli Schiff, an eight-week dash to remodel

(Story)

Aug 26, 2011

Coach of a different 'Flava'

(Story)

Aug 21, 2011

E-mailed schedules incorrect, school starts at eight

(Story)

Jun 29, 2011

Principal Tranchi taught, led, inspired students

(Story)

Jun 29, 2011

Four new Judaic teachers have wide range of educational backgrounds

(Story)

Jun 29, 2011

Spirit, spunk and a nudge toward the gap year

(Story)

Jun 29, 2011

Where weeds once grew

(Story)

Jun 29, 2011

Warmth and ruach that got students on their feet

(Story)

Jun 29, 2011

Sophomore wins Israel scholarship in art contest

(Story)

Jun 03, 2011

Nakba Day protests breach Israel's borders

(Story)

May 15, 2011

Israel's borders breached in Nakba Day protests

(Story)

Apr 18, 2011

Jewish community of Japan works fast to offer quake aid

(Story)

Apr 18, 2011

A Jewish teen's account of the earthquake

(Story)

Mar 11, 2011

Online from afar, LA Muslim teens back Egyptian protests

(Story)

Mar 10, 2011

Wave of recognitions supports a state of 'Palestine'

(Story)

Jan 06, 2011

L.A. Muslim teens juggle Islam and school while fighting misconceptions

(Story)

Jan 02, 2011

Local rabbis apply Modern Orthodoxy to tough issues

(Story)

Nov 15, 2010

BP wins NSPA Multimedia Story of the Year, 1st Place

(Story)

Nov 01, 2010

U.S. official in Mexico says bond is close, strong

(Story)

Nov 01, 2010

Israeli team saves Gazan baby in acclaimed new film

(Story)

Oct 31, 2010

Jewish teens in Mexico respond to drug violence

(Story)

Aug 30, 2010

Peace talks have started between Israel and Palestinian Authority

(Story)

Jun 30, 2010

Argentine film paints torn relationships, elusive justice

(Story)

May 23, 2010

A boost for teens, trees and water conservation

(Story)

May 23, 2010

Rachel Lester elected to SoRo neighborhood panel

(Story)

May 23, 2010

Kol Sasson teaches Shalhevet choir new techniques

(Story)

May 23, 2010

Scenes from childhood become 'Collective Memory' in drama's One-Act Festival

(Story)

Mar 18, 2010

The moment when science and religion went to war

(Story)

Mar 18, 2010

Jewish teens reach out to help Chile cope

(Story)

Mar 18, 2010

Photos of Poland-Israel trips bring back memories

(Story)

Jan 05, 2010

Prop lists and perfectionism: Taking 'A Shayna Maidel' from the page to the stage

(Story)