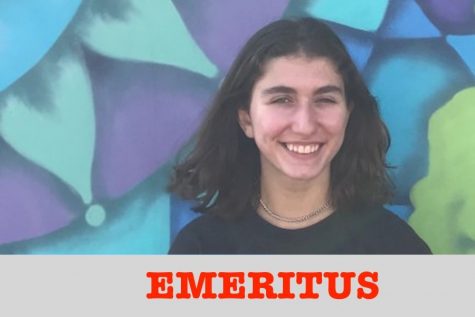 Hannah Jannol was Editor-in-Chief of the Boiling Point during the 2017-2018 school year. She now lives in Manhattan and attends The New School as a History and Economics major. She writes for their HerCampus chapter, edits obituaries for
The Trace,
writes poetry for
Eleven and a Half
literary magazine, and runs an Instagram and Twitter for
Uptown Stories.
When she's not writing, reading or editing, she is serving pitas at Mamoun's falafel in the Village, or trying a new iced coffee spot with a friend. Her favorite part of being on Boiling Point was production night, and writing long-form features stories, many of which won awards from CSPA, Quill & Scroll and the American Jewish Press Association.
Hannah Jannol, Editor-in-Chief Emeritus
Jun 13, 2018

On writers' wings, a journey heavy with history

(Story)

Jun 12, 2018

Books, visits help recovery as Rabbi Tsaidi plans return next fall

(Story)

Jun 10, 2018

A legacy of excellence as Ms. Sunshine retires

(Story)

Jun 10, 2018

Second annual 'Lynn Project' collects 19 boxes for families struggling in the Philippines

(Story)

May 15, 2018

MINIMESTERS 2018: Short electives explore anti-semitism, women's law and more to combat senioritis

(Story)

May 13, 2018

GETTING HERE: What's it like to live an hour away from school?

(Story)

Mar 28, 2018

The chametz in your closet: Mitzvot of Pesach in an age of freedom

(Story)

Mar 24, 2018

Rabbi Bouskila's journey comes together on stage in 'The Chosen.'

(Story)

Mar 22, 2018

Student journalists from Parkland high school tell CSPA how they covered shooting that killed 17

(Story)

Mar 08, 2018

Ms. Tove Sunshine retiring at the end of the year

(Media)

Feb 28, 2018

PURIM: At the crossroads of chance and fate

(Story)

Feb 23, 2018

Student show reflected feminism through modest fashion

(Story)

Feb 19, 2018

College-bound students weigh how far to fly the coop

(Story)

Jan 31, 2018

TWO BOILING POINTS OF VIEW: The VINZ: Groundbreaking or grotesque?

(Story)

Jan 15, 2018

Institute event explores power imbalance, modesty 'in the age of #MeToo'

(Story)

Jan 11, 2018

'Strategic shuffling' and new staff member will cover roles of former principal, Rabbi Segal announces

(Story)

Jan 09, 2018

Rabbi Segal tells assembly to focus on moving forward on 'a cloudy day'

(Story)

Dec 31, 2017

OPINION: Taming our roots

(Story)

Nov 07, 2017

Fairness Committee hands Agenda Chair first 'strike' under new 'covenant'

(Story)

Nov 05, 2017

Niche memes are connecting Jews worldwide with humor and some bite

(Story)

Oct 16, 2017

Class documentary on housing crisis selected for national film festival

(Story)

Sep 29, 2017

YOM KIPPUR: Someone else we should forgive

(Media)

Sep 28, 2017

Agenda Committee summer meetings focus on Town Hall changes, proposals and constitution

(Story)

Sep 18, 2017

REVIEW: Sliding doors, sliding stereotypes in Season 4 premiere of 'Broad City'

(Story)

Sep 07, 2017

When you're the child of a rabbi, who are you?

(Story)

Sep 03, 2017

Unwanted neighbors: Coyote pack menaces Beverlywood

(Story)

Aug 30, 2017

New math chair loves English and writing, too

(Story)

Jun 09, 2017

Ex-member says Twitter helped her break from Westboro Baptist Church

(Story)

May 26, 2017

Rachel Hecht, who started counseling program and removed its stigma, will not return next year

(Story)

May 11, 2017

A day to celebrate Israel's past, future and presence

(Story)

May 08, 2017

Shlomit Abrams, 'teacher who cares,' leaving after eight years

(Story)

Apr 26, 2017

Coach Flava not returning next year

(Story)

Mar 31, 2017

Three languages on the menu? Baruch Hashem!

(Story)

Mar 22, 2017

Private schools playing catch-up on immunizations against measles

(Story)

Mar 22, 2017

Private schools playing catch-up immunizing against measles

(Story)

Mar 14, 2017

Science Department chair Ayden Jacob announces he will not return next year

(Story)

Jan 19, 2017

Dem convention star Khan tells LA Muslims to plan, not panic, about Trump

(Story/Media)

Jan 10, 2017

Shalhevet, YULA, Valley Torah agree to cut Admissions spending

(Story)

Jan 09, 2017

REALITY CHECK: So-called 'finsta' accounts bring a different view of teen life to Instagram

(Story)

Dec 05, 2016

'Edge of 17' breaks ground but is not groundbreaking

(Story)

Nov 20, 2016

Two Boiling Points of View: Should Ben Shapiro have been allowed to speak at School?

(Story)

Nov 03, 2016

Rabbi Lieberman to leave YULA Girls High School

(Story)

Oct 28, 2016

A history teacher who has already changed history

(Story)

Oct 27, 2016

HOUSES DIVIDED: Presidential race challenges Shalhevet families

(Story)

Oct 22, 2016

More classrooms built for record student body, staff

(Story)

Oct 05, 2016

Admin cancels 'bubble' on Model Congress team, saying uncertainty caused more problems than it solved

(Story)

Sep 09, 2016

5 p.m. dismissal could be solution to schedule issues, Rabbi Segal tells news conference

(Story)

Sep 02, 2016

Blogger, Youtuber, academic joins History department

(Story)

Jul 02, 2016

For transgender baseball player from New Roads, sports help make him 'one of the guys'

(Story)

May 31, 2016

Dr. Noel will not return next year

(Story)

May 19, 2016

Agenda says debate over found school constitution should wait for next fall

(Story)

May 12, 2016

Candidates for Agenda Chair differ on wide range of issues at contentious pre-election debate

(Story)

May 12, 2016

Ms. Sirkis will not return next year

(Story)

May 10, 2016

FIRST IN A SERIES: The Positives of Partying

(Story)

Apr 14, 2016

In Shalhevet's lobby, a Guggenheim of the west

(Story)

Jan 28, 2016

TRANSITION: Former student holds onto religion while changing from female to male

(Story)

Jan 24, 2016

In five one-acts, Drama program explores teen identity as it affirms its own

(Story)

Dec 20, 2015

Ninth-grade ballerina twirls into four-minute role in Moscow Ballet's 'The Nutcracker'

(Story)

Oct 17, 2015

On Bunker Hill, another art museum and another Broad

(Story)

Sep 04, 2015

Playwright, actress, journalist and former model joins English Department

(Story)

Sep 04, 2015

New British Literature teacher has many ties to the Shalhevet community

(Story)

Jun 24, 2015

CIJE students at conference offer tech inventions for daily life

(Story)