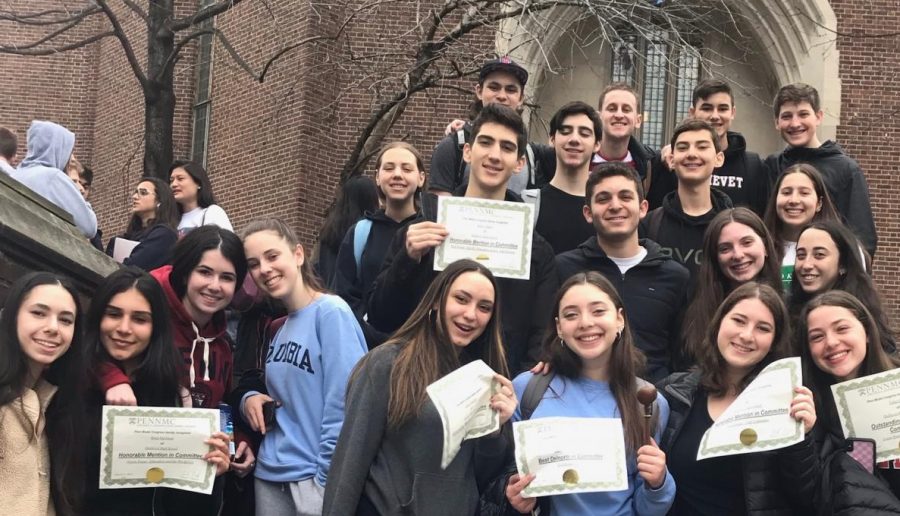 Aviva Walls
Shalhevet's 21-delegate Model Congress team missed half of the committee sessions and a third of the full-house sessions, yet still won two gavels and four honorable mentions at this year's annual Penn Model Congress competition in Philadelphia.
The conference was held on the campus of the University of Pennsylvania from Thursday through this morning.
Instead of continuing to compete, the Firehawks observed Shabbat at Penn's Hillel along with delegates from Ramaz Upper school in Manhattan and North Shore Hebrew Academy High School of Great Neck, N.Y., who also missed Shabbat sessions of the conference.
Debate team faculty advisor Mr. William Reusch, Dean of Academic Affairs Ms. Aviva Walls and Dean of Students Rabbi Ari Schwarzberg chaperoned the trip for Shalhevet.
Here are Shalhevet's winners:
Committee Awards
Lucy Fried: Best Delegate (Gavel), Ethics & Government Reform
Rena Harkam: Honorable Mention, Education and the Workforce
Ayala Chocron: Honorable Mention, Homeland Security
Asher Dauer: Honorable Mention, Health, Education, Labor and Pensions
Full Session Awards
Talia Gill: Outstanding Delegate
Nomi Willis: Honorable Mention