Meet the Writer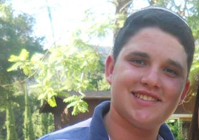 Jonah Gill, Outside News Editor
Sophomore Jonah Gill has been working on the Boiling Point since 9th grade, starting out writing sports stories and becoming Sports Editor in fall of this year.  He now has transitioned into the role of Outside News Editor to work on a different part of the paper.  During his free time, Jonah enjoys playing baseball and flag football for the Firehawks and debating for the Model Congress team.
Alec Fields, Co-Editor-in-Chief
Since freshman year, Alec Fields has written numerous stories for the Community, Torah, Features, Outside News, Sports and Arts and Culture sections. In 10th grade, Alec received the post of Torah editor and held that position until being named co-Editor-in-Chief for the 2016-2017 school year. He has received awards for, "SUMMER OF WAR: Hollywood, too, was divided," "Refusing Playoff Suspension, Buckley Resigns," "OUT OF THE SHADOWS: Ancient tradition meets modern sensibility," and for "Rabbi who sauna-ed with students in New York was scholar-in-residence at Beth Jacob on Shavuot." Alec is co-captain of Model Congress, co-president of the Finance Club, a founder of Supplies on Demand, a member of the Mock Trial team, Firehawks for Israel, tennis team and grappling club. Some of his favorite classes are Political Theory of Modern Middle East, Psychology, and Government and Economics. When Alec has time he enjoys playing or watching sports, reading the news and managing his fantasy football team.